The Best Ideas Prove Themselves by Spreading Like Pollen
"The best ideas prove themselves by spreading like pollen." I heard this and liked it so much I made a little poster and stuck it on my office wall for inspiration. I wanted to give credit to the author so I did a Google search but never found a name.
Why?
The answer lies in the web of algorithms and other mystical forces around the buying of keywords. I did learn rain showers may be good for tamping down some allergies but might kick up others. Another article blamed my allergies on botanical sexism—I didn't know that was even a thing.
Aprilaire bought the keyword 'pollen' to tell me rain might cause mold allergies to rear their ugly head and I need to protect myself and my home!

The third result is an eight-year-old article about 9 easy ways to allergy-proof my life. Wow! Number three is eight-years-old? That tells me no one is hammering on pollen as a keyword!

What about your great ideas and services? Can I find you when I'm Googling? I may not know exactly what I'm looking for, at least not yet. But learning how people begin their searches for your products or services can get you on the first page of Google. (Ever hear the one about the best place to hide a body? It's the second page of Google!)
Put yourself in the shoes of someone looking for what you do.
Well-established brands with lots of name recognition in a well-defined field are typically searched for by name. Think La-Z-Boy when you need a great chair or Bergstrom for that sweet new Trailblazer.
But what if you're a tiny start-up with a niche offering? This is when the strategy behind choosing what keywords and phrases your potential customers will use to find you really makes the difference between a whizbang success and a tepid response that leaves you wondering why no one knows who you are.
Let's take a look at a niche business. Perhaps you were a college athlete. You worked with a trainer, a nutritionist, and a coach. This team taught you how to read your body, how to train safely, and how to perfect your performance. Now you want to bring your knowledge to amateur athletes. Your business is dedicated to helping athletes, and regular people looking to improve their health. How do people devoted to running, cross-fit, cycling, or G4 racing find you?
The answer is a four-letter word, you've heard it before, it starts with a B.
If you guessed blog—you win! Because blogs help you win mindshare, market share, and page one on google.
Blog stats:
There are over 600 million blogs worldwide. (GrowthBadger.com)
Each month, more than 409 million people view over 20 billion pages on WordPress.com sites. (WordPress)
55% of marketers say blogging is their most important inbound marketing channel. (Hubspot)
One of the biggest blogging trends in 2022 is writing longer articles.
The average length of a page that ranks on the first page of Google is 1,447 words. (Backlinko)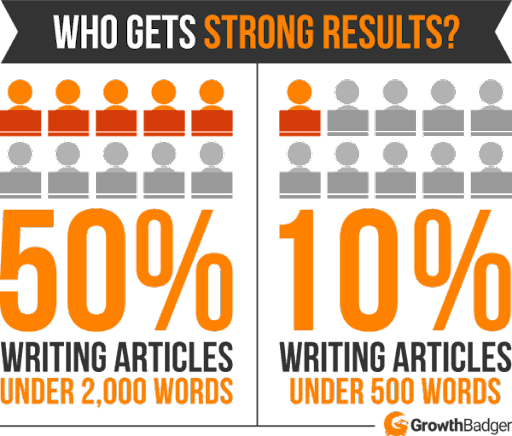 So, you want to blog. But how to get started? You can sit down and put pen to paper—or fingers to keys—but just a top-of-mind brain dump won't get you where you want to go. Which is getting your page ranked high so potential customers can find you!
Since this is a blog about blogging I feel a certain amount of pressure to offer really good advice. Here goes!
Start With Your Keywords
The best practices to drive traffic and generate leads are to use keywords your potential customers will use. For example, if you want to attract athletes looking to improve their Ironman performance we'd begin by doing keyword research for articles and blogs about training and the gear needed to complete the Ironman.
Choose a click-worthy title.
Continuing with the Ironman example, which would you rather read. "Ironman Posts" or "Why Ironman is All About the Bike."
Pick a Niche and Stick With It.
If you become known for blogs about training and nutrition don't include a blog about how to paint a room or the best time to plant a tree.
Speak to the heart of the dog.
Write what your customers want to read, not what you want to write. That's what your personal blog is for! For instance, if you offer skin care services, tell your reader about the benefits to their skin and not about the manufacturing process of your product.
Add links to your internal content.
This helps readers find what they're searching for but it also helps to position you as an authority. Don't overlook linking to reputable sources, other blogs, or web pages as this will also strengthen your credibility.
Produce great content that your readers will find relevant.
Be organized and (hopefully) entertaining! And this is hard but, ask someone to edit for you.
Post new content often and encourage engagement.
As a rule, you should promote your blog twice as often as you create new content. A great way to encourage your readers is to ask what they thought, ask questions, and start conversations.
Blogging can help you spread your good ideas to the right people. In doing so, you'll find you've climbed the Google ladder, created a fan base, and fattened up your bottom line. Oh, and if you happen to know who said, "The best ideas prove themselves by spreading like pollen," please let me know right away because I can't find it anywhere. If it was you, I think you're brilliant!
---