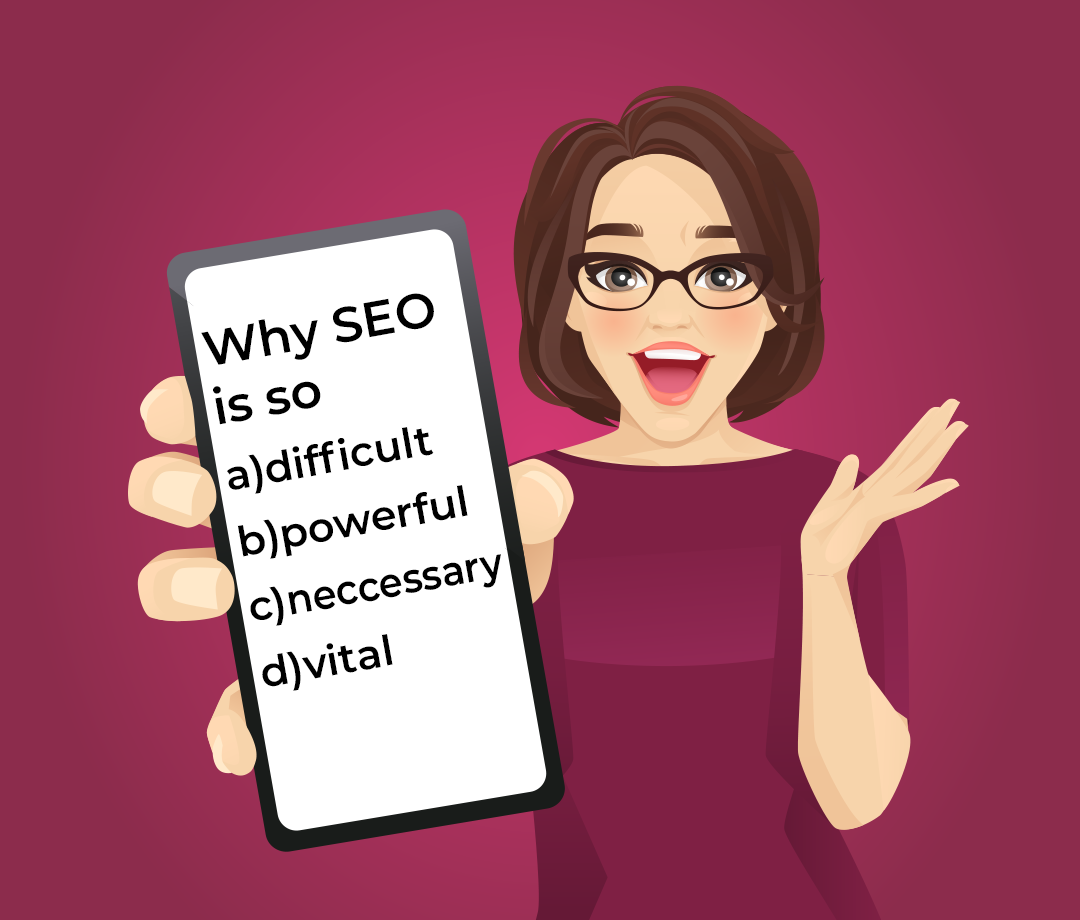 Why SEO is Vital to Your Business
As a local business, an effective SEO strategy levels the playing field with larger companies that often have more resources and visibility. With a well-thought-out SEO plan, you can increase traffic to your website and reach new customers who may not be familiar with your brand yet!
With the right strategy, you can maximize your online presence and use content marketing tactics to attract more website visitors. SEO helps establish brand awareness and credibility by increasing the visibility of your website in online searches. This leads potential customers to trust your company more, which leads to increased conversions.
Why Local Businesses Don't Invest in SEO
The most common reasons businesses refrain from investing in SEO are the perceived expense, not seeing immediate results, or needing more time to implement SEO tactics. However, SEO is crucial to a successful digital marketing strategy that can bring long-term benefits and ROI for business owners.
Top Reasons for Local SEO Failure
Without a proper understanding of how SEO works, business owners can make mistakes such as focusing on keywords nobody is searching for, not implementing recommended changes, looking at the wrong key performance indicators, investing in spammy content/link-building tactics, and not focusing on user experience. These common mistakes can quickly lead to a bad taste in your mouth for SEO.
Mid-West Family Madison customizes every SEO plan to deliver quality content throughout the user's buying process. We continually enhance user experience and optimize your online presence with local business listings, targeted keyword rankings, conversion rate optimization, and enhanced reporting. Our goal with every campaign is to demonstrate a year-over-year increase in organic sessions and lead generation.
SEO Success Factors for Local Businesses
A clear understanding of the importance of SEO for local businesses and what components factor into successful campaigns is critical to establishing a robust digital presence and gaining visibility among your competition.
The seven success factors outlined below are essential to a successful SEO strategy to generate long-term returns for local business owners.
9 Critical Components to Local SEO Success
Measuring the right KPIs
Finding the right keywords
Building your online reputation
Understanding your users
Optimizing your content
Niche resources have a significant impact
Connecting online and offline promotions
Integrating social media, email, and paid search
Analyzing results and optimizing SEO
Mid-West Family Madison has the knowledge, experience, and resources to develop an effective SEO plan to maximize website visibility and reach a wider audience.
Measuring the right KPIs.
Measuring the right key performance indicators is essential to understanding the success of any digital marketing campaign, including SEO. Mid-West Family Madison ensures all strategies and tactics are created to drive your primary KPIs, using them to continually optimize and lead the direction of your entire marketing campaign.
The primary KPIs for measuring our SEO program include organic sessions, lead generation growth, and increased non-branded keyword rankings and traffic delivered to your website.
Finding the right keywords.
A successful SEO campaign starts with understanding which keywords are most commonly used by potential customers and creating content to target those keywords. Mid-West Family Madison focuses on keywords throughout your entire website. By ensuring every page has a unique keyword focus, we deliver an increase in overall organic sessions.
Did you know a typical website is found through thousands of unique keyword searches every month?
Building your online reputation.
Online business reviews provide potential customers with an understanding of the quality of a product or service and gauge the trustworthiness of the company. Positive customer reviews lead to higher conversions, more sales, and increased business profits.
As your digital marketing partner, Mid-West Family Madison will work with your team to continue to build, optimize, and grow your online reputation.
Understanding your users.
Understanding your users is essential for SEO success. Knowing what topics to cover in content and which keywords are being used by customers will help you create content that targets them more effectively.
Mid-West Family Madison's SEO program heavily focuses on the overall user experience. Concentrating on the end users' path through their decision-making process and providing the right information at each step of their journey results in increased organic sessions and lead generation across all digital marketing channels driving traffic to your website.
Optimizing your content.
Creating and optimizing content is important to a successful SEO plan. Quality content helps increase website traffic, improve conversions, and build your brand's reputation. It also helps provide customers with valuable information related to their needs.
Mid-West Family conducts a content gap analysis during onboarding, pinpointing opportunities to grow and convert website users into happy customers.
Niche resources have a significant impact!
As part of our SEO services, we continue to research and optimize relevant niche resources and utilize them to increase your organic visibility. Niche resources can often provide specialized services only available in some places. Additionally, they are often viewed as an expert in the field and can drive leads to local businesses.
Connecting online and offline promotions.
There is a significant connection between online and offline marketing tactics. Offline marketing activities such as radio, television, print ads, flyers, etc., can significantly impact SEO efforts and vice versa. These activities help to increase brand recognition and authority while providing more opportunities for customers to find your business.
Integrating social media, email, and paid search.
Social media, email, and paid search are powerful tools for increasing visibility and driving organic traffic to local businesses. Paid search campaigns can increase online search visibility, boost website traffic, and target new audiences. You can use email marketing to send targeted messages that directly appeal to customers and offer special promotions.
Our integrated marketing program drives fresh content and enhanced user experience across all of your digital marketing channels through the development and optimization process of SEO.
Analyzing results and optimizing SEO.
SEO performance should be analyzed regularly to understand the success of an SEO campaign. Keeping track of key performance indicators will help you know which tactics are working and which need to be adjusted. Additionally, analyzing results can help identify new opportunities for optimization and growth.
At Mid-West Family, we believe in delivering actionable insights through various deep-dive analyses and enhanced testing environments, relying heavily on the data to drive your entire digital marketing campaign.
Ready to Get Started?
Contact us today for a free SEO strategy designed uniquely for you. Our experienced SEO team will create a tailored plan to help you achieve your business goals. We'll identify keywords and topics that best suit your industry, optimize content for maximum visibility, monitor customer feedback across multiple platforms, and analyze performance to maximize SEO efforts. Get ahead of the competition today! Contact us for your free SEO strategy consultation.