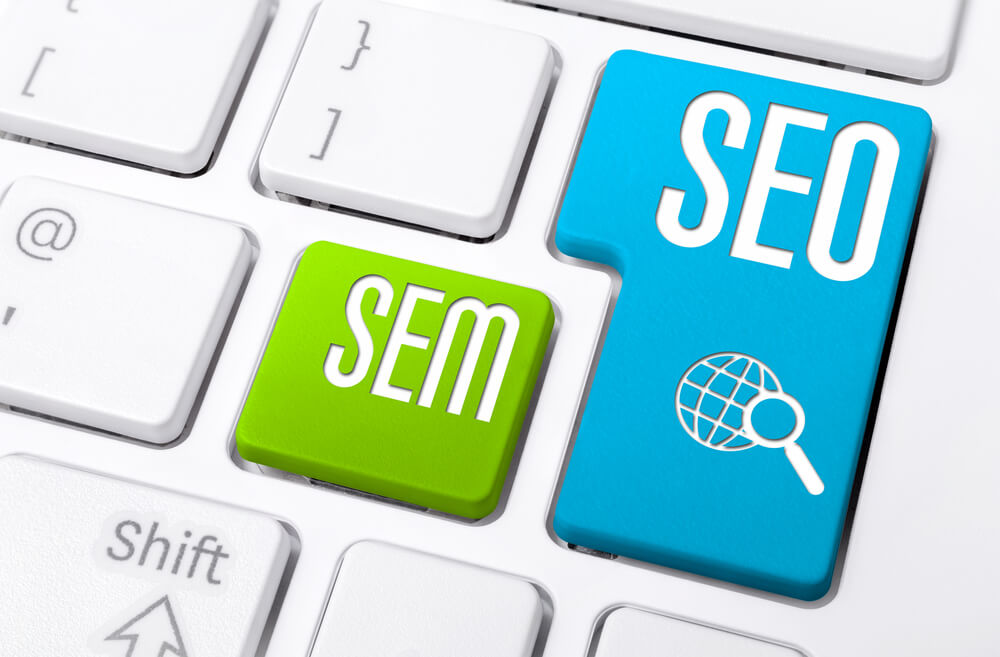 Grow Your Business with SEO & SEM
So, you want to grow your business? Even if you don't sell your services or products online, you still need to market your business on the Internet.
Broadcast media and other advertising drive business, but before a customer comes through your physical door, they come through your virtual one. In fact, 81% of shoppers search for information online before making a purchase, and the goal is to get your company in their crosshairs during this process.
There are two ways you can do this: Search Engine Marketing (SEM) strategies, which use Pay Per Click campaigns to place your paid ad higher in search engine results, and Search Engine Optimization (SEO) strategies, which help your website organically rank high in search results. Use these eleven tips for SEO and SEM to grow your business.
1. Set Clear Goals
Consider what you want to achieve before executing an SEO or SEM strategy. For instance, do you want to:
Increase your website traffic by a certain percentage

Increase your conversion rate

Grow the number of leads at various stages of your sales pipeline
As part of your goal setting, also determine how you will measure progress. Be sure and benchmark where you are before you start. Hint: You can set goals with GA4!
2. Keyword Search
Both SEO and SEM strategies revolve around keywords. What terms is your audience using to find answers online? Investing in a bit of research will save you money in the long run. What you think are your "key" words aren't always what people are searching for. You can use these words and phrases for:
SEM to place paid ads to push your business to the top of Search Engine Result Pages (SERPs)

SEO to write new content focused on the keywords
SEO to build your metadata to prioritize the high-value keywords in your category
Use a keyword research platform to identify high-value keywords for your niche and keywords your website may already rank for.
3. On-Page Optimization
SEO strategies create experiences for search engine bots just as much as for people. To make sure search engines have a thorough understanding of each page of content, develop an on-page optimization checklist to:
Put keywords in the meta descriptions

Use keywords in the header and subheaders

Naturally incorporate keywords throughout the content
4. Technical SEO
Along with keyword optimization, there are a few more technical aspects of SEO that search engines factor into their ranking schemas. Including:
How fast your webpage loads on both desktops and mobile devices

If there's an updated robot. txt file

If your website has a robust sitemap to make navigation easy and predictable
Fulfill these requirements and others for a strong technical SEO score.
5. Content Marketing
Content marketing is all about creating, publishing, and promoting good content to establish your expertise and help your audience. Here are examples of terrific content:
Off-site and blog articles

Infographics

Videos

Website content like landing pages and guides
Great content achieves multiple goals. It draws viewers to your website and highlights your expertise and knowledge in the industry.
Over time, high-quality content will also get you backlinks—other websites and resources will link to your content, bringing in even more visitors and showing search engines the value of your website.
6. Link Building
That last benefit of content creation—back-linking—is especially valuable for increasing your SERPs rankings and your website's domain authority.
When authoritative and popular websites link to your site, they act as social proof of your site's value. Search engines measure your backlinks and prefer your website accordingly.
7. Local SEO
If you run a local brick-and-mortar store or serve a particular region, prioritizing local SEO over national or generalized SEO will benefit you. Local strategies include:
Using Google My Business resources to create a local online presence

Developing business profiles in local business directories

Creating localized content
8. Pay-Per-Click (PPC) Advertising
Pay-per-click ads draw online audiences to your landing pages or website by being prominently displayed on search engines and other websites. PPC ads appear when a person who fits a specific profile searches for a particular term. For instance, a high-end jeweler may set a household income level or age range to ensure they don't get clicks when just anyone searches for engagement rings.
You can use PPC ads as a short-term or ongoing strategy for bringing traffic to your business. Based on performance, you can increase the budget for different campaigns, refine the keywords, or change the ad copy.
9. Display Advertising and Remarketing
Display ads appear in front of a broader audience based on their search profiles and interests. They create more touchpoints between a shopper and your brand, so you stay top of mind. Along with general display ads, you can use remarketing tactics to send sequential ads, reminders, or increasingly tempting offers to people who clicked your ad but didn't convert.
10. Analyze and Optimize
As you perform these actions, make sure you're measuring each's effect. Google Analytics, Google Search Console, and other tools can measure changes in your web traffic, SERPs rankings, traffic sources, and other metrics so you can evaluate the success of your efforts.
11. Stay Updated and Adapt
While these strategies for growing your business through SEO and SEM are time-tested, the tactics and tips that can bump up your results constantly change.
Follow trusted sources for insights into emerging SEO and SEM trends, or partner with a digital agency to follow evolving best practices.
Power Your Business Growth with SEO and SEM Services from Mid-West Family
SEO and SEM are long-term investments and are continuous processes. They give your website momentum and increase visibility for online shoppers. This is not something you do once and consider it done because the landscape keeps changing.
The team at Mid-West Family is plugged into marketing and advertising trends throughout the online marketplace so you can continually strengthen your website's presence. Reach out today to learn how we can help your business growth strategies.